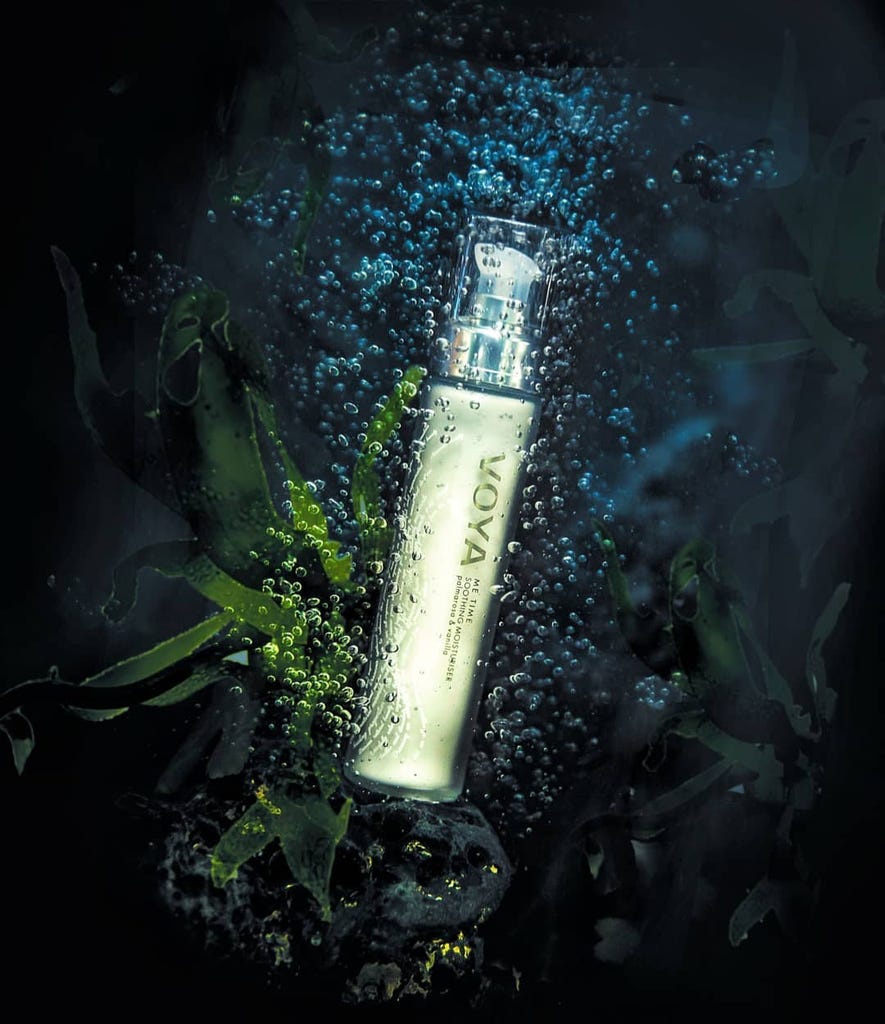 VOYA Organic Skincare
Das VOYA-Sortiment verwendet die hochwertigsten pflanzlichen Inhaltsstoffe und Aroma öle in Kombination mit unserem zertifizierten Bio-Seetang, der sorgfältig von Hand geerntet und von der wilden Atlantikküste Irlands ausgewählt wird. VOYA ist stolz darauf, außergewöhnliche Hautpflege-, Haushalts- und Lifestyleprodukte mit einem Ethos der Nachhaltigkeit und zertifizierten Bio-Standards zu entwickeln, die von der Küste bis zur Ablage angewendet werden.


Luxury skincare from Ireland
🌊 Award winning certified organic seaweed products

VEGAN,99%BIO,HALAL,OHNE KONSERVIERUNGSSTOFFE


AHA PEEL RESURFACING RADIANCE FACIAL 60 min 60 €
Eine hochwirksame behandlung zur Haut-Erneuerung, die auf verstopfte, glatte und matte Haut abzielt. Mit einer Kombination aus Algenextrakt, natürlich gewonnener Glykolsäure und Milchsäure mit Ananasfruchtenzymen verleiht diese Behandlung Ihrer Haut ihr natürliches strahlendes Aussehen. Unsere fortschrittliche Peeling-Behandlung hilft dabei, feine Linien zu verringern und die Größe zu reduzieren, und hellt das Erscheinungsbild der Haut auf.

A highly effective resurfacing facial that targets congested lackluster and dull skin. Using a combination of seaweed extract, naturally derived glycolic acid and lactic acids with pineapple fruit enzymes, this facial will give your skin back its natural radiant glow. Our advanced exfoliation treatment assists in diminishing fine lines and reducing size and will brighten the skins appearance.
VOYA AWAKENING FACIAL
70 Min € 85
Geeignet für alle Hauttypen. Eine äußerst erholsame Gesichtsbehandlung, die aus einer Kombination von VOYAs Bio-Produkten besteht
Algen-Gesichtsstreifen mit Pro-Kollagen-Extrakten und Antioxidantien. Diese Gesichtsbehandlung hilft bei der Bekämpfung der Anzeichen sichtbarer Hautalterung, die feine Linien und Falten mindert und empfindliche Haut mit Feuchtigkeit versorgt. Das Ergebnis ist sofort
straffe und straffe haut mit einem natürlichen strahlenden Glanz.

This treatment is suitable for all skin types, particularly for those in search of anti-aging results. The anti-aging restorative facial is made using VOYA's finest organic ingredients combined with anti-oxidant algae complexes and a restorative blend of aromatherapy oils. This mix of seaweed and botanical ingredients that helps to stimulate collagen production and reduce the appearance of fine lines and wrinkles. This facial results in instantly firmed and tightened skin with a natural and more radiant glow.
INTENSE DEFENCE FOR MEN FACIAL
60 min 78€

Diese Behandlung ist speziell für Männer zugeschnitten. Es reinigt die Haut gründlich, spendet Feuchtigkeit und wirkt Anti-Aging. Diese
Behandlung besteht aus frischen Algenblättern, die über eine warme Anti-AgingGesichtsmaske gelegt wird.

Exclusively created for men's specific skin care needs, this powerfully effective treatment ex-foliates the skin with bamboo spines enabling a deeper cleanse. The client will enjoy a soothing face and scalp massage, where VOYA's seaweed leaves and Mermaids Purse mask are used to soothe even the most sensitive of skin. Fantastic for those affected with shaving rash, razor burn or ingrown hairs; the skin is left hydrated, fresh and mattified.
DELUXE ANTI AGEING FACIAL EXPERIENCE
90 min 120€

Diese Behandlung beginnt mit einer Rückenbürsten-Peeling ,Rückenmassage. Die Behandlung wird mit einer mineralisierenden Seetang-Gesichtsbehandlung fortgesetzt, die ein sanftes Peeling aus fein gemahlenem Bio-Seetang enthält, gefolgt von einer einzigartigen Schicht aus echten Seetangblättern und einer Gesichts- und Kopfmassage:


The ultimate VOYA facial experience. Your treatment begins with a relaxing back massage to induce relaxation and gently melt away muscular pain. This is followed by a 70 minute results driven hydrating and purifying facial, which includes a 20 minute facial massage to deeply hydrate the skin, along with a dual action facial mask which utilizes the exclusive re-mineralizing, VOYA Mermaid's Purse* and Laminaria Seaweed Leaves**. This facial leaves the skin rejuvenated, the appearance of deep set wrinkles is reduced and the skin's texture is left hydrated and plumped. This is the creme de la creme of all facial experiences.
MARINE EYE TREATMENT
45 min 55€
oder mit eine Behandlung für 25€
Gönnen Sie Ihren müden Augen eine Feuchtigkeitsspender und entschlackende Augenbehandlung, die den perfekten Genuss für alle darstellt, die an dunklen Ringen und Schwellungen leiden.

Organische Laminaria digitata Seetang-Augenklappen werden von Hand aus dem wilden Atlantik geerntet. Dies ist eine ultimative Wohltat zur Erfrischung und Verjüngung müder Augen. Die Seaweed Marine Eye-Behandlung kombiniert entspannende und entschlackende Lymphmassage-Bewegungen mit speziellen Produkten für individuelle Altersprobleme, die um die Augenpartie auftreten.


Using organic Laminaria Digitata seaweed eye compresses, which are hand-harvested from the wild Atlantic Ocean, this is a unique treatment for refreshing and rejuvenating tired eyes. Combining both relaxing and decongesting lymphatic massage movements to banish puffiness and dark shadows, Your VOYA Therapist will also use specialized eye masks for those individuals who are specifically concerned with ageing around the eye area. This is a firming, hydrating and results-orientated treatment that uses specific products rich in seaweed extract, green tea and vitamin C, to help reduce the appearance of fine lines and decongests the eye area.
VOYA Kosmetik Behandlung
Natur Kosmetik

VOYA ist seit über 10 Jahren weltweit führend im Bereich ergebnisorientierter, zertifizierter Bio-Hautpflege. Wir sind die führenden Experten, wenn es darum geht, die unendlichen Stärken und Heilkräfte von Seetang zu nutzen. Wir mischen unsere geschätzten natürlichen Ressourcen mit einer Fülle von reinsten organischen Wirkstoffen und ätherischen Ölen.